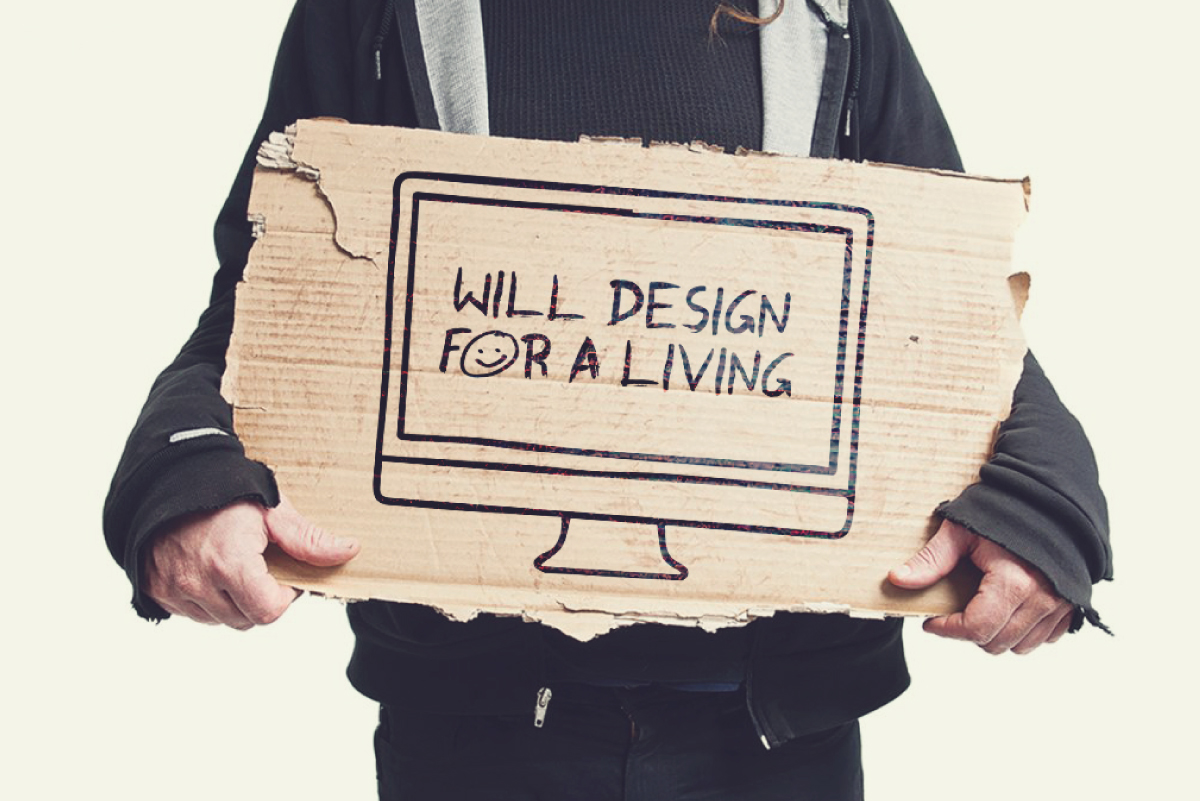 Is Graphic Design Expensive?
I have almost 15 years experience within the graphic design field and since 2014, I've been self-employed. It's quite daunting as full-time employment comes with the security of a guaranteed monthly salary, unlike the unpredictable level of income that comes with self-employment. At times it can be extremely challenging. I've found pricing graphic design services very difficult. We all know cost can be a sensitive matter and more often than not, I agonise over quotations, I actually find submitting quotations somewhat awkward. I'm not placing a RRP on a product; I'm literally placing a valuation on my time, skills and experience.
My rates can often be compared to other so-called designers who have an inferior level of experience and expertise. Therefore, I've come to dislike the phrasing "too expensive" because it implies I'm being dishonest and exceeding a common rate that doesn't actually exist. It also disregards and devalues my skills in comparison to those I am being compared to.
As a designer, most clients I had the chance to work with understand the value of my work. Some people however, usually new to the field of design, have a very abstract idea of what graphic design work entails and wonder why they should pay so much for it. Few will ever tell designers to their face that they do not value their work, but you can read it in their eyes, or between the lines of the apologetic emails they send once they receive a quote they do not understand; confusion, doubt and mistrust.

Tina Mailhot-Roberge – Graphic Designer, Web Designer and Illustrator (Canada)
What are you paying for?
The general rule is to set an hourly rate and multiply this figure by the estimated time required to complete the project, while factoring in the complexity level of each project. You may even find the rate changes depending on the type of client… lest we forget a graphic designer is running a business. You're paying for time, but you're also paying for the designer's ability and experience and this is where it becomes a grey area. Expertise and experience are subjective. Not every client possesses the ability to differentiate good design from bad design, so in most cases cost is the only consideration.
Normally it should be 'you get what you pay for' where graphic design is concerned, but the prices are so erratic where I operate in Gaborone. The spectrum goes from one extreme to the other, there's little consistency and many distort reasonable logic when pricing. I can see how this is very confusing for potential clients. Costs can be debated, but quibbling over costs can become regrettable for those who hire the services of a cheaper provider with less experience. Clients should consider the whole experience; an experienced designer will make the process a lot smoother while producing appropriate and effective artwork.
At the end of the day, the client has choices and it can be difficult to assess costs when you have no comparison. The question for every designer is how much is everyone else charging? Over the years I have conducted my own research and found in the USA the average design rates are as follows:
I must stress that every project is different and every designer has different rates and/or different estimated timeframes. Some designers have set prices for projects regardless of the time involved. The average rate above is a bit surprising; I would have thought the figures would be $65 – $75 for most projects.
The rates below are examples of costs based on the above rates and estimated timeframes. Complexity levels for projects can differ and that's another reason why prices can vary. The figures shown below are simply an example to offer some insight into how graphic design rates are applied; I'm not suggesting these figures apply across the board.
Admittedly $900 for a flyer is excessive, that's the equivalent of approximately P8,500 and it would be absurd to charge such an extortionate price for something like a flyer. However, an amateur designer once stated on a social media group that he charged a small IT business P10,000 just for designing an A2 wall calendar! This is why I say prices in Gaborone are erratic.
Branding and rebranding projects are more complicated. Further research indicates a more accurate average price range is for these jobs are $500 – $2,000 and this would certainly apply to start up, small and some medium sized businesses. Anything less than $500 is the lowest end of the scale. The cost for medium sized and some larger businesses would be an average of $2,000 – $5,000. Costs that exceed these figures would apply to large corporate and commercial organisations.
So what does the cost include?
In the professional world of design the cost should include consultations, but there are designers who don't charge a consultation fee. Research consumes a lot of time and it's vital research is carried out before starting a project. A designer needs to examine the industry of their client and study the competition with regards to how they market their business/service. After research comes brainstorming and concept development, which are also very time consuming and quite often have to be carried out during unsociable hours to avoid day-to-day distractions.
Then the actual work starts and this is where experience and expertise comes into play. Identifying the right typeface, colour schemes, and other aspects such as image selection and mapping out the layout. Sometimes a client wants options, so if it takes hours to produce one sample it's likely to require a few more hours to produce alternatives. The review and proofing stage of the process can also expend hours if not days and subsequently require further edits and amendments.
The figures in the table above might give some people the impression graphic design is a lucrative profession. The truth is quite the opposite. Work is not as regular as you might think. A designer might only be engaged for branding projects once or twice a year, even every couple of years. I'm referring to serious branding jobs and not the generic stock logos, which satisfy the needs of clients only willing to pay a few hundred Pula.
Can the cost be reduced?
On the face of it graphic design is considered expensive, but it should be considered an investment and clients should receive value for money but sadly, that's not always the case. A business needs graphic design and graphic design is a business. Good, professional graphic designers don't come cheap, but there are ways you can potentially ensure the costs are more agreeable. A graphic designer's rates are flexible even though they are running a business, and like everybody else in the world, they unashamedly want to make money, but you can negotiate.
Firstly, projects can be infrequent or once in a blue moon and there are no guarantees, so designers have to capitalise on whatever opportunities come their way. However, if an organisation plans ahead and more crucially has a marketing plan then that's your bargaining tool. If a client is willing to commit and guarantee a set number of projects per annum a designer is more inclined to apply discounts, particularly for the smaller jobs. Although you first have to establish trust through a strong working relationship… loyalty is rewarded and in my experience, naivety is punished.
Any agreement towards discounts has to come with boundaries and an understanding that the agreed rates are not forever set in stone. The same stipulations should also apply regarding aspects such as revisions and the production of alternatives. The rate is reduced, but the general terms still apply.
The design brief is also a mechanism for negotiation. Clients are asked to indicate their budget or state what they have paid in the past for a similar project. Many people avoid answering this question and I assume that's because they don't want to commit to a price. However, an answer to this question means the designer has options and may choose to be competitive. You have to answer truthfully; a professional and experienced designer will have an idea if you're listing a price considerably lower than what you actually paid.
When it comes to pricing, there is no exact formula that's right for everyone
The price you ask for would still depend on the circumstances. What clients pay for design defines how much the designer is worth as a professional, and that figure should not cheapen their work. A client can do their own research and compare designers based on cost, quality/portfolio and references to ensure they are investing in the right provider.
I have a client who has referred to me as "high-end, but worth it" and I like that because it's a compliment, especially as this client is particularly discerning. What most people don't realise, or underestimate, is that the extent to which graphic design can benefit a business is immense. Is graphic design expensive? No, I don't believe it is, it's just not within everyone's budget.
It seems fitting that I should end this post with the famous quote from Dr Ralf Speth…