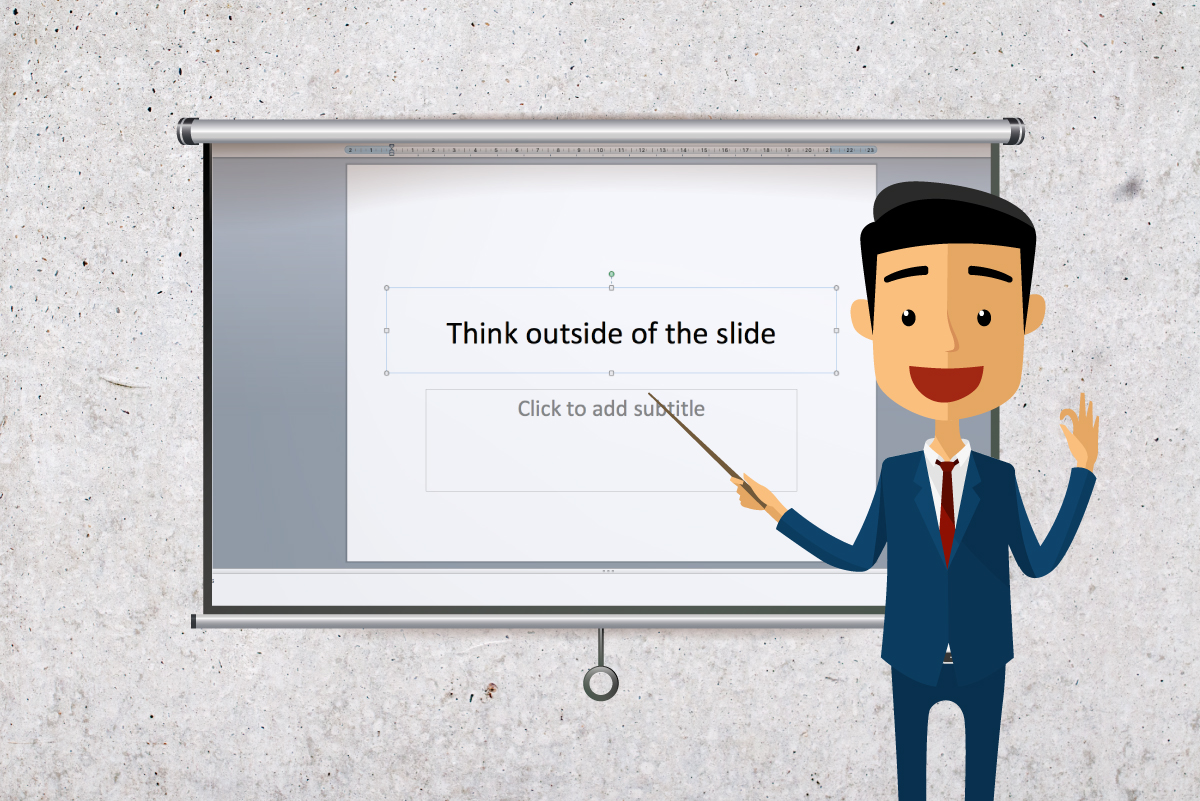 Think Outside of the Slide
Companies invest sizeable amounts in certain areas of their business, engaging professionals to design their brochures, annual reports, marketing/advertising, promotions, etc. Yet many don't engage professionals to design their presentations; for the most part employees complete them in-house.
Millions of people use Microsoft PowerPoint on a regular basis, whether it's for training/educational purposes, business/sales pitches or general presentations at events, conferences and so on. Yet a large portion uses PowerPoint in a completely ineffectual way. PowerPoint was introduced around 1982 and the standard templates and diagrams have evolved and proven useful over the years. However times have changed, but how people use PowerPoint hasn't really changed.
The same old tricks that once charmed the audience and got them leaning forward in their seats could now have them rolling their eyes, heaving heavy sighs and reaching for their phones to tune out entirely.

Michelle Panzironi, Marketing Manager
Over the years (and even to this day) I've found trying to change people's approach and overall mindset to PowerPoint difficult, almost impossible. I spent years working within the corporate environment, primarily supporting business development and I advised sales managers to simplify their presentations, reduce the wording/bullets, reduce the tables/charts and generally make their presentations more visual.
Eventually the company engaged an external consultancy firm to carry out sales training and one of the areas they covered was presentations. Thankfully they echoed what I had been saying for years and although there was reluctance in the beginning, it was eventually embraced. Why? Because the sellers noticed a change in how people reacted to their presentations.
PowerPoint has been widely used across the world for decades and yet it has gotten a bad reputation. Slides can be too cliché, too dull, too obnoxious, too repetitive, too out dated, too cluttered. There are even alternative platforms such as Keynote and Prezi, but the truth is, like PowerPoint, all these platforms are tools and you can't blame software for a bad presentation.
PowerPoint is a tool; it isn't content. Microsoft Word doesn't tell beautiful (or awful) stories, the author does. And so it goes with PowerPoint presentations: if you fill them with bad content and design, your presentation flies right out the window.

Dr. Curtis Newbold, Visual Communications Expert
One of the key elements of a bad presentation is too much text, and what I like to call "bullet point hell". The message just isn't getting through. Besides showing a lack of creativity, text (even broken down in a bulleted list) actually impairs your ability to communicate! When I see a slide full of bullet points or numerous financial tables, I lose the will to live because I'm not being shown anything of interest.
The audience could have paid to be there or include high profile individuals (expos, etc.), their time is valuable and a bad presentation is wasting their time and it's a wasted opportunity for the presenter. If you don't believe me, read the excerpt below from an article by the presentation expert, Dave Paradi. This was written in 2006 so if things haven't improved, then they've gotten much, much worse.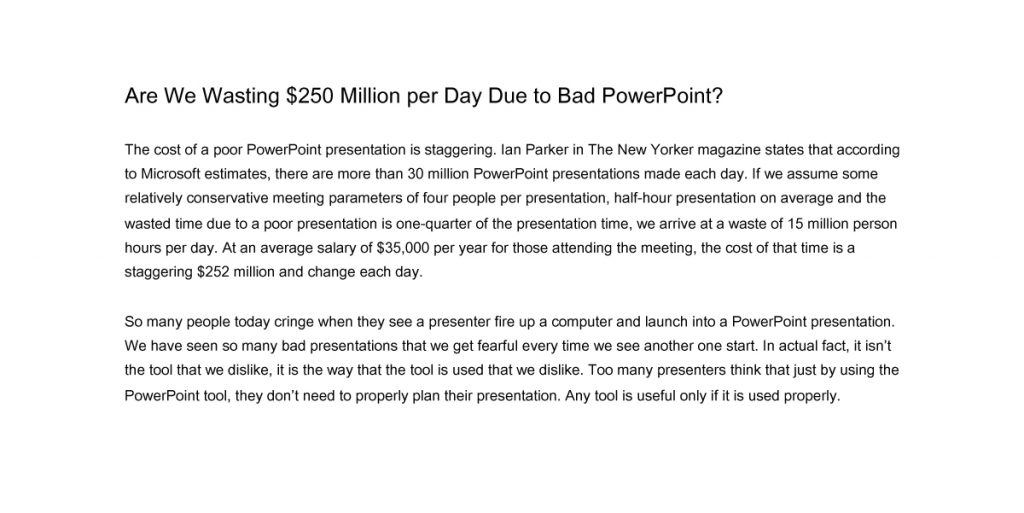 PowerPoint slides should be used to supplement a presentation, not serve as a crutch. One of the most common practises for presenters is to stare at the screen and read the content of the slides to the audience. Most of the time people are reading the bullets faster than they are spoken, so they're ahead and waiting for the presenter to catch up. Presenters often position themselves very close to the screen, so they have their back to the audience while they read the slides.
Although, presenting is not easy and the whole experience makes many people very anxious and nervous. So I don't understand why people position themselves (or the podium) in front of the screen. The audience needs to focus on the content and listen to what is being said, there's no stipulation to suggest the audience must have eyes on the presenter at all times. The presenter should be in view when directly engaging with the audience (i.e. Q&A session, during a speech, etc.), but he or she doesn't necessarily need to be on display when the focus is on the slides. He or she just needs to be heard, there's no harm in standing away from the screen.
Another aspect of bad presentations is the placement of content and the general formatting. As mentioned above, 'bullet point hell' is a problem, but it gets worse when the font gets smaller to accommodate the abundance of bullets… and sub-bullets. The placement of imagery and the subsequent squashing of imagery accompanied by the use of clipart are the final nails in a bad presentation's coffin. Creativity is a good thing, but making text boxes spin around and fly in and out of the screen is not creative.
The problem with clipart is that it's tacky and the use of cheap clipart is to make a presentation more visual, but it seldom has any real purpose and can be inappropriate. What should be used are relevant and appropriate images that tell a story or conjure the emotions you want people to feel. Icons and infographics have become more and more beneficial. A presentation needs a lot of visual information, but the visuals need to be relevant. I would also tread lightly with stock photography, as these can be out dated and equally as bad as clipart graphics.
So how do you improve a presentation?
Graphic design is essentially communications design and problem solving. A presentation is a form of communicating and the problem is finding a simplified way to communicate the key points.
There is the perception that by engaging a professional graphic designer requires a substantial budget, but it really depends on the scale of the job – please refer to other articles The Design Brief & Is Graphic Design Expensive? But when you consider the importance of some presentations and the potential value of a successful outcome the cost of a professional graphic designer is an investment.
Anyone who wishes to engage me has to be open-minded and be willing to try something different. Like software, I am a tool and I cannot apply a modern style to an old-fashioned approach. Nor can the client receive a completely editable file. Firstly I cannot create effective graphics using Microsoft software and secondly, providing an editable file often has amateurish and unprofessional results when users make their own amendments. But this factor shouldn't be off-putting. When you engage a graphic designer to produce other company collateral (brochures, business cards, etc.), you don't receive editable files.
There are times when people want to include the finer details, such as figures, graphs and so on. But the simple workaround is to create a booklet/hand-out, which includes the contents of the presentation in more detail. They can be handed out to the audience before, during or after the presentation.
Above are samples of slides I have created for a variety of presentations in the past. Hopefully these examples demonstrate how slides can be simplified while remaining relevant and effective.
Slide 1: Introduction – there's no name and job title, just the company logo and tagline. Introduce your brand and let it sit there and sink in.
Slide 2: Eight was the brand identity for a catering outlet at a university. The figure '8' was made up of words, which stayed up long enough for the audience to read and better understand the concept.
Slide 3: This was a different take on an organisational structure. The client was a museum for trains, so I created a team structure that mimicked a tube map.
Slide 4: I focused on the key stats and presented them visually, instead of just typing numbers in a list of bullets points.
Slide 5: Another map used to visually convey a catering outlet concept called Eat Street. Eat Street brought alternative high street food and beverage brands in-house – in this case the client was a hospital.
Slide 6: The figure shown was the profit the client would receive. Naturally the financial tables were vast, but the most important figures answer the questions – how much is it going to cost me and how much will I get in return?
---
One aspect of the process that always becomes a problem is the constant chopping and changing. The presentation goes backwards and forwards, reviewed by several people and numerous changes are inevitable. Simplifying the slides, using visual aids reduces or eliminates the need for the amendments. The specifics are within the notes, which are spoken and can change as many times as required because the audience won't see them.
Think of this alternative approach as creating small advertisements. Each slide is a small billboard and no advertisement contains ALL the details of the promotion or product or the T&Cs or your company's history. Keeping it simple is just that… simple.