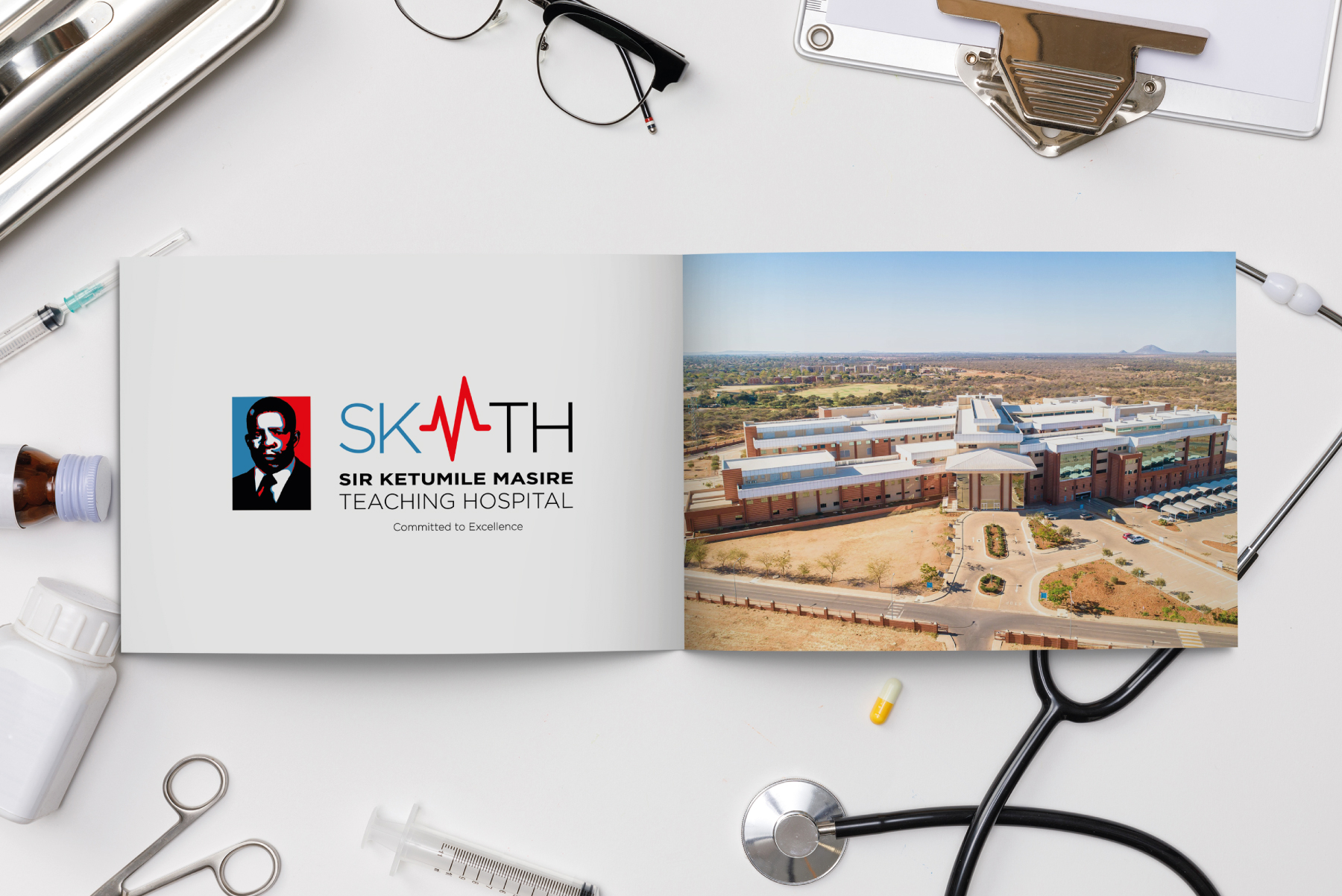 10 questions about the Sir Ketumile Masire Teaching Hospital branding exercise
So despite a global pandemic, the newly built University of Botswana Teaching Hospital has managed to carry out a branding exercise. Construction on the hospital started in 2010 with a view to it being officially opened in 2019. The hospital was renamed Sir Ketumile Masire Teaching Hospital in honour of the former President after he passed away in 2017. This was recognition for his immense and immeasurable contribution to the country's development. Rre Masire was also the University's Chancellor from 1980 – 1998 and reappointed again in 2008 until his passing.
The hospital decided to source their new identity via a competition. The winning design was revealed in August 2020 and received a negative response from the public. Lest we forget, this isn't the University's first experience of a branding exercise. Several years ago, the University rebranded and the new crest was also heavily criticised by the public, so much so the University ended up reverting back to the old crest. Batswana feel a strong sense of ownership towards the University, as they do towards their former President – did those involved learn nothing from that experience?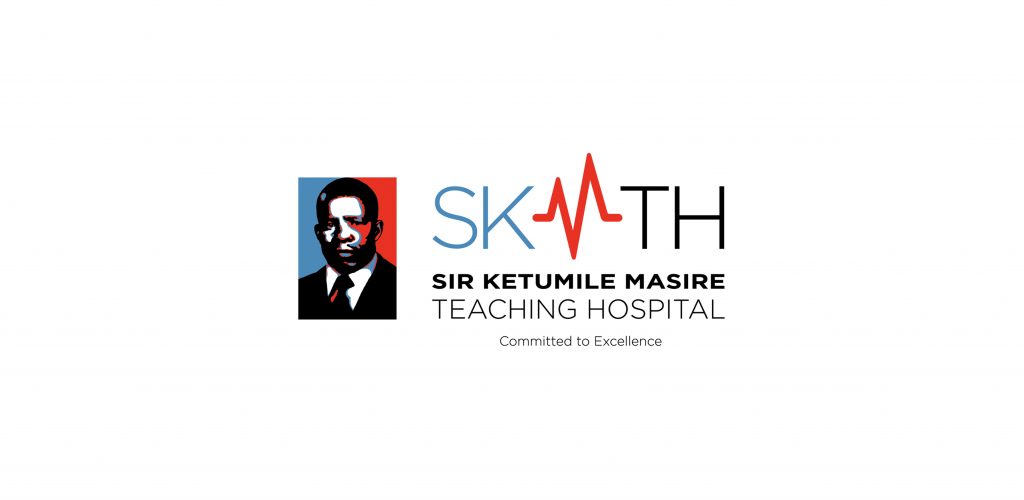 While I am not impressed with the winning design, I cannot hold the creator responsible. As a result of the backlash, the poor guy has been subject to ridicule and trial by social media. But he did nothing wrong. He simply entered a competition, his design was chosen as the winner and he won P20,000 (approx. US$1,700 / £1,300). Whatever happened since is on those involved in the competition and this branding exercise.
So here are 10 questions I would like to ask.
Why source the logo via a competition?
I have previously written an article about the pitfalls of sourcing logos via competitions, so my stance on this is very clear. Competitions seldom produce desirable results since they are open to anyone (be it professionals, amateurs, chancers and children). The quality of submissions can be questionable since most professional designers and agencies don't enter competitions. President Masire is an iconic public figure, highly respected and deeply loved by the nation, so to trivialise the branding of a hospital named after him by means of a competition is odd, to say the least.
I wasn't aware the hospital intended to brand itself, nor was I aware of the competition. Whenever a branding project is met with such criticism, it is prudent to understand what instructions or requirements were given in the first place. I have asked the hospital for the competition details, which are essentially the brief, but I haven't as yet received a response. So without these details, it is difficult to make any comments on that aspect.
But you need to understand your audience before you can appreciate why these types of competitions can be a bad idea. One key part of any branding or rebranding exercise is research. This can exhaust days, if not weeks, and for this, you need access to the internet. Internet in Botswana is expensive, so many people can't afford to have internet at home. A lot of those who do have the internet at home can only afford lower packages with slower speeds. The rest rely on data bundles on their phones and this is not an ideal device to carry out adequate research.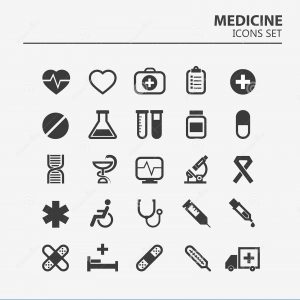 People can be insular and literal and I would imagine the variety of ideas submitted were limited, if not repetitive. It's like 'designers' Google medical icons and proceed with one these icons as the basis of the brand. That's not to say this is the wrong approach, but it's all in the execution and a competition is unlikely to yield any masterpieces. Even if it did, would anyone on the selection committee have the ability to spot them?
I worry about the popularity of these competitions and the negative impact they have on the Botswana brand. It's easy to forget there are eyes looking at Botswana; lest we forget the global backlash the country has received over its elephants. We have to acknowledge the perception people will make of Botswana. The country needs foreign investment and therefore the country must look credible. People here might not think branding is that important, but take it from a foreigner's perspective – it is. A book will be judged by its cover.
Why not put the final decision to a public vote?
Transparency, where competitions are concerned, is key, which begs the question as to why the chosen finalists were not displayed publicly and the people asked to choose their favourite? Even if behind the scenes the selection committee still wants to control the outcome, you can gauge that decision based on the public vote. If you keep everything behind closed doors, you leave yourself wide open to accusations of fixing and corruption. A brand represents your promise to your customers, which in turn builds trust, but to start that process with uncertainty makes it difficult to trust your brand.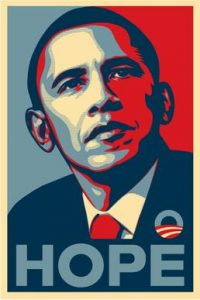 Is the winning logo in breach of copyright?
A lot of people have claimed the logo is in breach of copyright. The illustration mimics the Barack Obama "Hope" poster, which is an image of Obama designed by artist Shepard Fairey. It is very recognisable and widely described as iconic, as it represented his historic 2008 presidential campaign. There was a legal case in 2009, in which Fairey was sued by the Associated Press for copyright infringement involving the photograph that was used. But the style/technique used is not copyright and anyone is welcome to correct me if I'm wrong.
In fact, the poster has been parodied in popular culture and used by a number of individuals and publications. It's also an 'Action' that can be purchased, installed in Adobe Photoshop and with just a few clicks, similar artwork is easily replicated. Although the SKMTH logo does not use the exact same method, the final illustration is not refined nor is it appealing. His Excellency's face is distorted and it's just not flattering.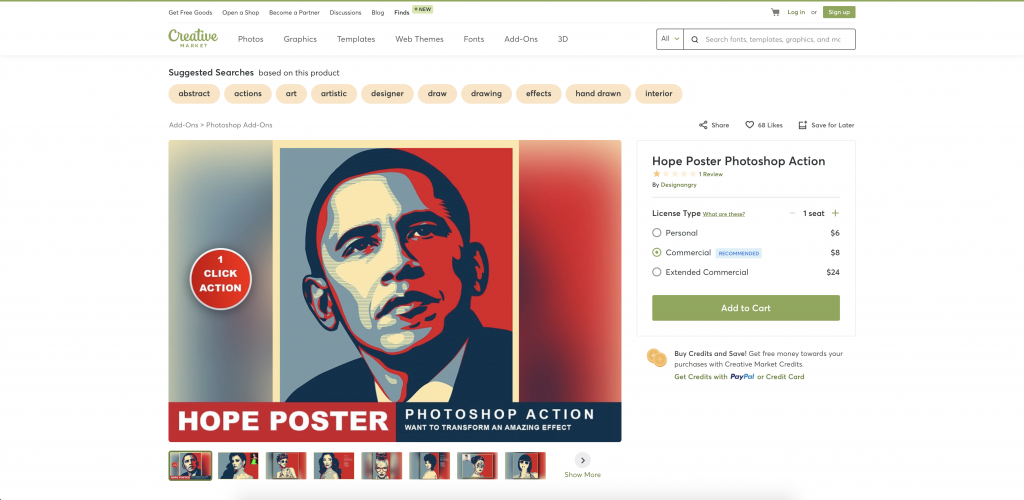 I wouldn't have adopted this style for a brand identity since it is widely recognised and synonymous with a former US President. The Obama artwork featured the word "hope" and in other versions the words "change" or "progress". It basically symbolises change and new beginnings, but that doesn't represent President Masire and we shouldn't associate the hospital's logo with Barack Obama.
Are there subsequent branding issues?
When designing a logo, you have to consider logo usability. Logo designers simply know that they have to make several versions – e.g. one that will be used for print, another for the web, a portrait and landscape version, a black and a white version, etc. Which leads to the question, has the winning logo been submitted in vector format or a useless high-resolution jpeg file? Is there a brand manual? Probably not since this was a competition. So without a style guide, what will guide the style of all subsequent branding material (letterhead, business cards, uniforms, etc)?
The majority of people who submit entries to these competitions don't know any of this. Not adhering to these fundamentals will eventually cause problems further down the line and correcting these issues may require redoing the work from scratch.
Can the logo work without the picture?
Many people have suggested removing the illustration and using only the text part of the logo. I disagree. Art and design is subjective, but it's not friendly or welcoming, it has no character or personality. Montserrat font is a nice font, but not really the best font for a hospital.
This was an opportunity to try something different. I was fortunate to have met President Masire once, but I cannot claim to have known him very well. From the little I do know and have read, he was a visionary and forward-thinking. He had to be in order to fast-track initiatives and develop the country. He was also warm, friendly and had a wonderful personality, charismatic and more.
The inspiration for this logo could have been more contemporary, abstract, traditional, Afrocentric – so many alternative styles. President Masire was not ordinary and not always conventional, he had to be radical at times and break away from the norm. In my opinion, the logo should have followed suit.
I would even go as far as to consider making the name an acronym, which is a popular trend in Botswana, although it is not always required. In some cases, the acronym trend goes too far. However, Sir Ketumile Masire Teaching Hospital is a bit of a mouthful. Gaborone Private Hospital is commonly known as GPH, so this hospital could be known as Masire Teaching Hospital or MTH.
Why was a professional and/or experienced individual not involved with this exercise?
I'm pretty sure no professional or experienced individual was involved in the selection process. If there was, I would be both disturbed and extremely concerned. I'm talking about someone with a proven background in the creative industry, not a friend of a cousin whose portfolio consists of a few CD covers. I imagine the committee consisted of medical practitioners, academics, procurement, marketing and/or communications/PR personnel. Having seen the hospital's social media strategy, it's no real surprise their selection was poor. Had someone with a relevant background and experience been involved, maybe the outcome would have been more desirable.
Was this exercise really a priority?
We are currently going through a global pandemic and although Coronavirus is in Botswana, thankfully, the mortality rate is low in comparison to other nations. SKMT Hospital is the only hospital in the country that is housing Botswana's confirmed cases. It's no surprise, given the circumstances, that the whole branding process lacked any meaningful strategy. Caring for the sick and saving lives is the priority.
I personally feel the branding exercise could have been put on the back burner for another year or so. By which time we might hopefully be looking at better times and life being back to as close to normal as possible. It would also make sense to have an unveiling event. Even if the event is small, all you need is Presidents (past and present), the Minister of Health along with most, if not all, the Masire family. Just posting the chosen logo on social media seems impersonal and just isn't befitting.
Did the hospital need a logo?
I actually wonder whether a new logo was required. Of course, it's a nice gesture to personalise the hospital, but hindsight is a wonderful thing given the results! In any case, the hospital is part of the University of Botswana, as its original name suggests. It is currently branded with the University's crest and the words 'Teaching Hospital' at the side. 'Sir Ketumile Masire' could have featured above 'Teaching Hospital' and no-one would have thought any less about it. Later down the line, maybe a statue or a sculpture of His Excellency could have been erected near the entrance to commemorate such a great and historical figure.
Why not consult the Masire family?
Another huge error and careless oversight is the lack of Masire family input. I'm going out on a limb here, but I am 99.9% confident no member of the Masire family was engaged or informed of this exercise. I have worked with Mmasekgoa Masire-Mwamba in the past and although she's is not a designer, she was part of the team that established the national brand and she understands the creative process. If it turns out Mmasekgoa or any member of the family is happy with this logo, I will eat my shoes and socks.
Creating a brand requires consultation and who knows the man better than his own family and close friends? Surely you would want to garner information and feedback from those who knew the man behind the president. For all we know, he might not even have liked the portrait that was used. It's ridiculous and borderline offensive to think this exercise was carried out without consulting any member of his family.
Back in the UK, I used to work for a contract catering company whose logo featured a flower. It seems bizarre to use a flower in the brand for a catering firm, but it was a dedication to the original founder's wife. I forget the name of the flower, but he wanted it incorporated because it was his wife's favourite flower. He personalised the brand and this could have been the case with the hospital… had his family been consulted.
Are there other options?
Of course, there are always an array of alternatives. Below is a selection of hospital brands I've found. These illustrate how other hospitals have branded themselves and the variety of approaches that have been used.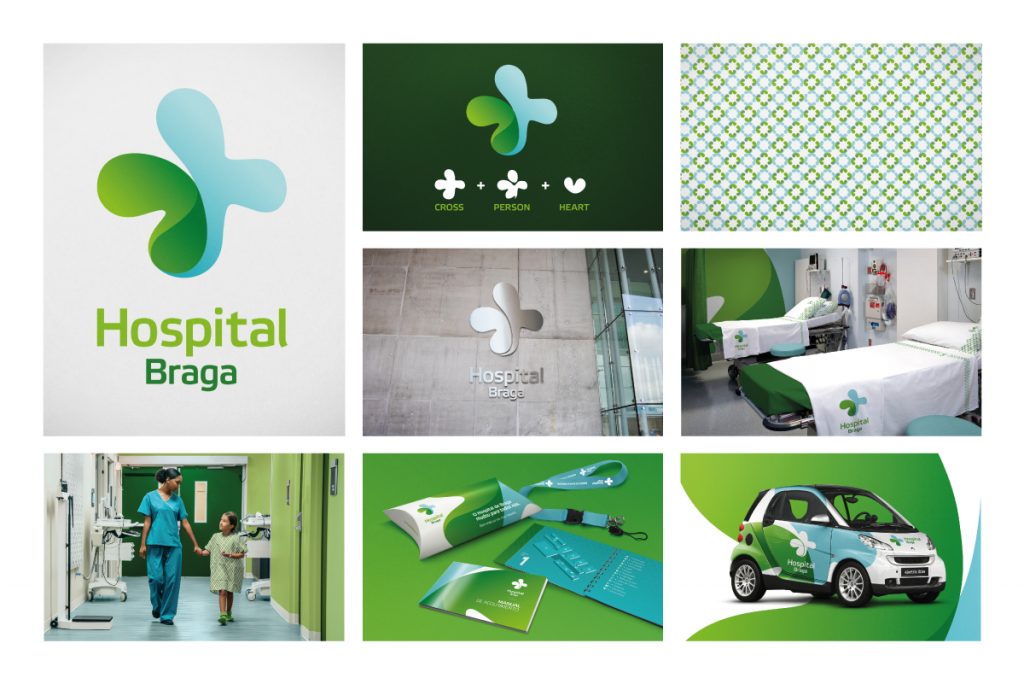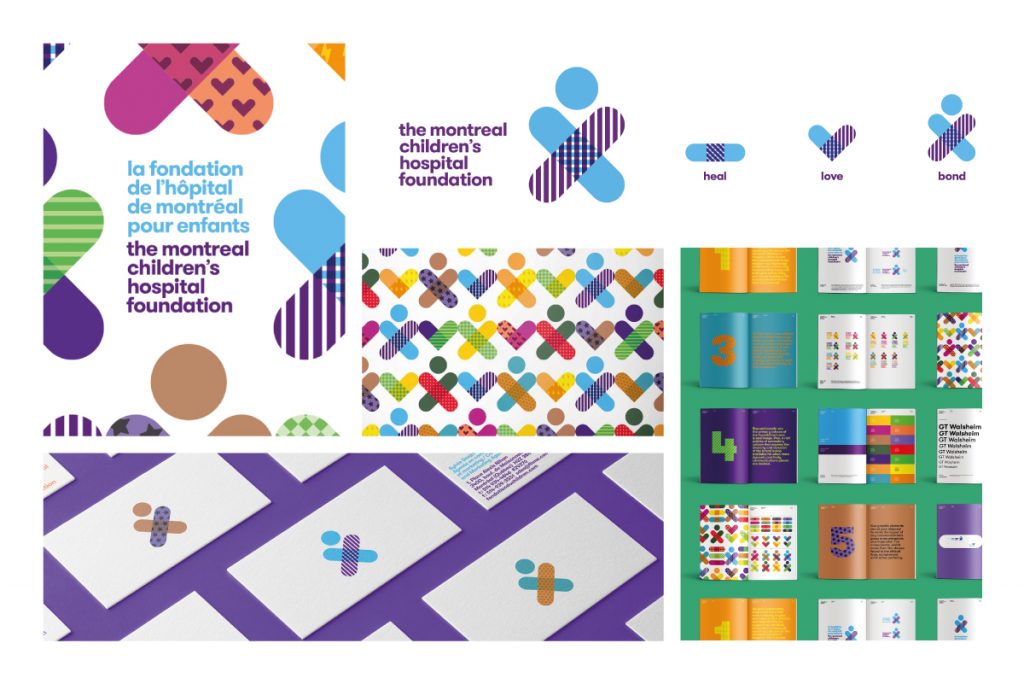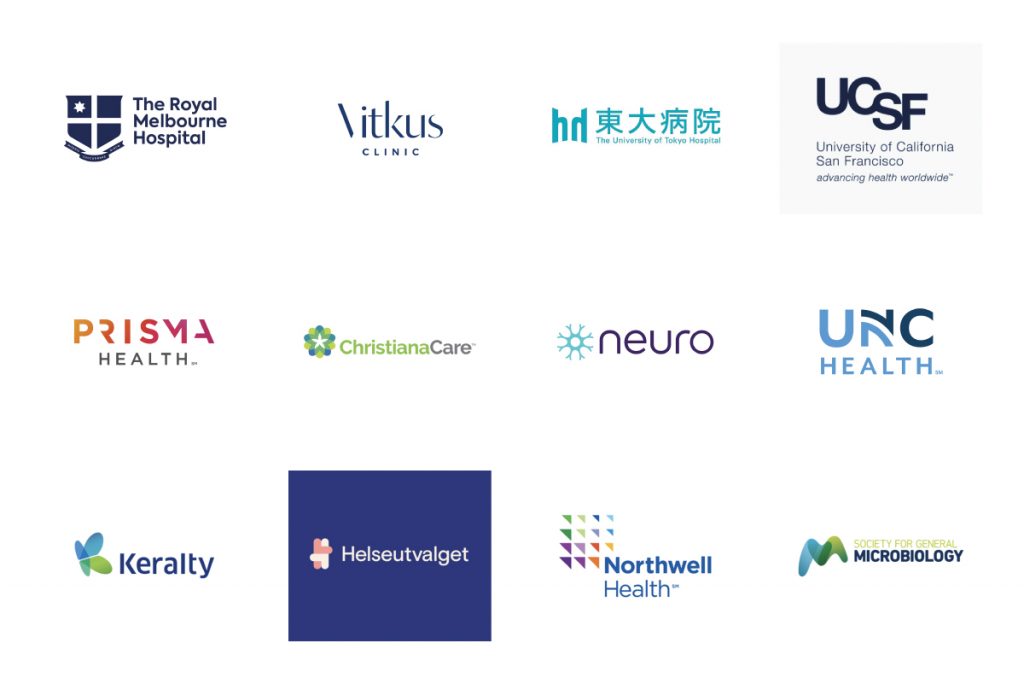 ---
I might not be a fan of these competitions, but I do recognise there are times when crowdsourcing your company's identity is required. Small businesses don't always have the capital to invest in professional design services, so crowdsourcing can be more affordable. Logo competitions may very well save money in the hope someone will come up with something you can use, but this rarely happens. Unfortunately, the majority of entrants neither have the skills nor the knowledge to pull it off. But if you're a large and/or prominent entity, then you do have the funds and a responsibility to do things the right way.
Organisations sourcing logos via competitions are not helping the creative industry; in fact, it cheapens the industry and the work it does. There's also no synergy since the government has talked about its commitment to supporting the creative industry, yet competitions are used to source creative needs.
What lessons are the next generation of designers learning? The marketplace is saturated and aspiring designers have to work hard in all areas of business in order to be relevant and competitive. This requires a lot of other skills beyond the ability to use Photoshop. If these competitions become the standard, you'll simply destroy the industry. You'll also have a lot of mediocre and irrelevant brands since anyone can enter these competitions. We have the term 'tenderpreneur' and soon you'll have 'logopreneurs' who won't care about your brand, just the prize money. Anyone can download an array of readymade logos and they'll have a library ready and waiting for the next contest.
If anyone from the hospital is reading this and still wondering why people, like me, are upset or disagree with how the hospital opted to source its brand, think about it this way. If you're a surgeon, imagine you see the prestigious Sir Ketumile Masire Teaching Hospital advertising vacancies for surgeons. However, the hospital doesn't want you send to them a CV or interview you. Instead, they've asked all interested applicants to send videos of themselves performing operations and the video of the best operation gets the job.
I'll leave you with that thought.